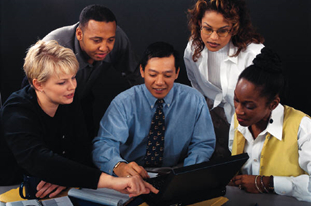 Communication – it is instantaneous and constant and has become a challenge in our world today. Whether it is in person, on the phone, in an email or through a social media website, businesses every day face difficulty in communicating with customers and with employees.  Some of those challenges can lead to difficult conversations and conflict.
If your business, organization, college, school, team or group are dealing with difficult communications and conflict, let Karen Richards Training & Mediation customize a training program that will fit your needs.
Working in collaboration with a team of conflict resolution professionals, we have delivered a variety of workshops to many public and private organizations including:
Regent University
Norfolk State University
Old Dominion University
Tidewater Community College
National Geospatial-Intelligence Agency
Hampton Roads Sanitation District
United Way of South Hampton Roads
Virginia Collaborative Professionals
Portsmouth and Chesapeake Human Services
Armed Services YMCA
Norfolk Department of Recreational Services
Virginia Beach City Public Schools School Plant
Chaplains and staff from the Veterans Administration in Hampton and;
A variety of other public and private organizations.
So if you are looking for training to help your employees or team to learn the skills to manage difficult conversations, to deliver excellent customer service or to develop effective problem-solving skills, contact me.
Let's start the conversation.